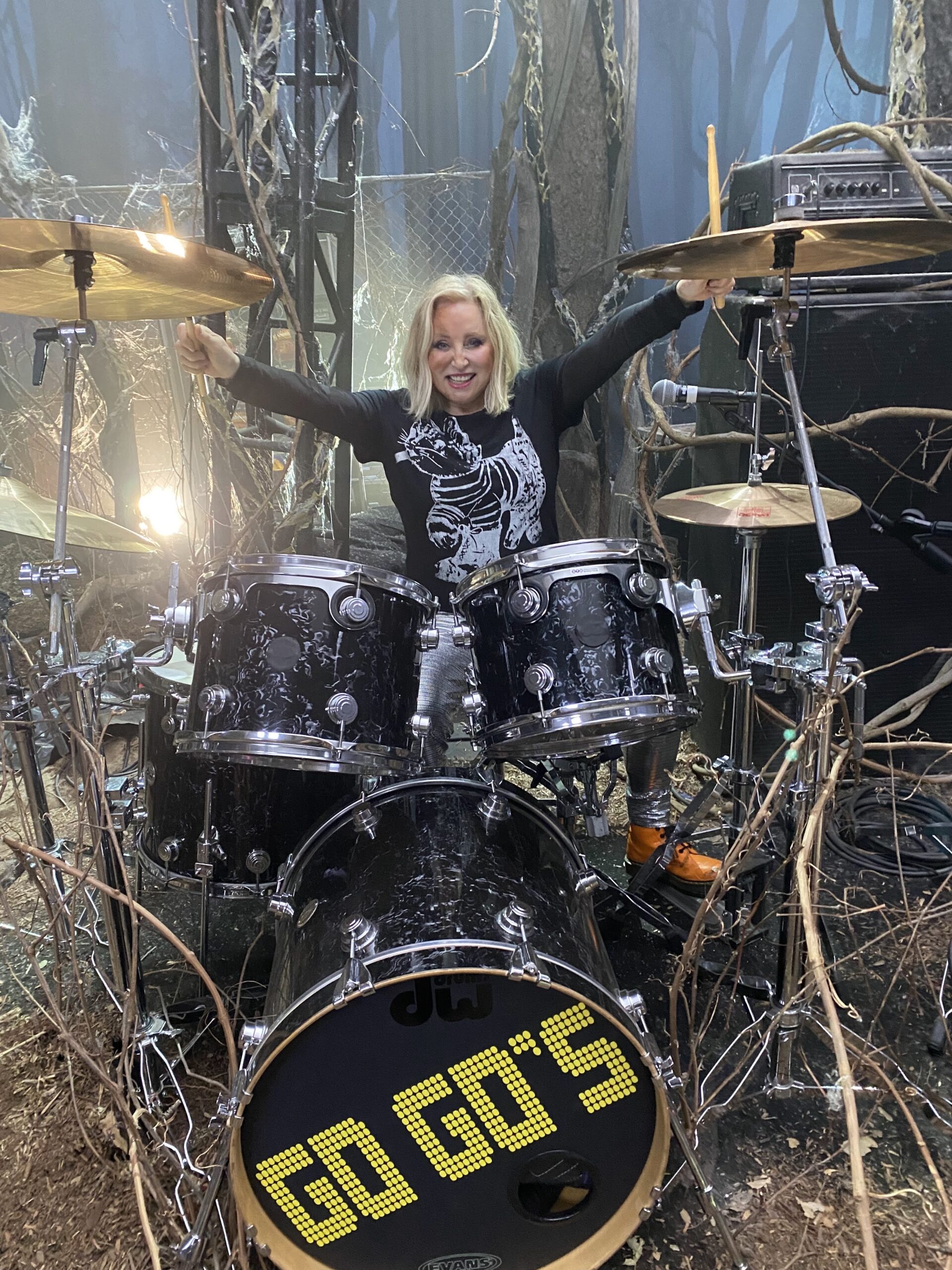 Gina Schock
Born in Baltimore, Maryland, Gina Schock is a unique entity as a female drummer and songwriter. Early on, she played in many bands, including Baltimore's first punk new wave band Scratch n Sniff. But a game changer was touring with Edith Massey, "the Egg Lady". Edie was one of the main stars of John Waters' films. This gig was Gina's first professional experience playing in Philadelphia, New York, Los Angeles, and San Francisco.
After her stint in Edie and the Eggs, Gina moved to Los Angeles. She arrived on February 14, 1979, with everything she owned in the back of her father's pickup truck. Soon after, at a party in Santa Monica, she met a couple of girls in a newly formed band called The Go-Go's. We all know what they went on to accomplish.  The Go-Go's debut album, Beauty and the Beat, rose to the top of the charts in 1981, staying at No. 1 on the Billboard charts for six consecutive weeks, spawning the hits "Our Lips Are Sealed" (named one of Rolling Stone's Top 100 Pop Singles) and "We Got The Beat" and earning them a Grammy nomination for "Best New Artist." Their 1982 follow-up, Vacation, hit Top Ten on the Billboard 200 and featured the Top Ten title track "Vacation." Together the band toured the world over, from tiny clubs to sold-out arenas, with legendary tour-mates like; the Police, Rolling Stones, David Bowie, the B-52s, INXS, and so many other great artists. The band has sold over 7 million records worldwide. It has the notable distinction of being the only all-female band to write their own songs and play their own instruments on a No. 1 album.
The Go-Go's broke up from 1985 to 1990. During that period, Gina met Vance DeGeneres and formed the band House of Schock. After doing one show at the Roxy, they got a record deal with Capitol Records. She had established herself as a singer, songwriter, musician, and producer. From producing the Go-Go's DVD release of their 2001 concert, Live in Central Park, to co-writing the title track for the Miley Cyrus album "Breakout". She also co-wrote songs for Selena Gomez, including: "Falling Down", "Stop and Erase," and "Crush" for Selena's debut album, "Kiss & Tell."   Schock's songs have also appeared in many movies, including The Accused, Superstar, and Bull Durham, to name a few. She has also acted in television and independent films.
In 2011, The Go-Go's were honored with a Star on the Hollywood Walk of Fame.
At that point, Tony Award-winning writer Jeff Whitty approached the band about using their music for a concept he had involving the 16th-century book The Countess of Pembroke's Arcadia.
In 2018, The Go-Go's landed on Broadway with the musical Head Over Heels. After many successful months on Broadway, it went on the road and is still touring.
In 2020, their Critics Choice Award-winning Showtime documentary, The Go-Go's, was released to fans and critical acclaim. In October 2021, the quintet celebrated their induction into the Rock & Roll Hall of Fame alongside Tina Turner, Carole King, JAY-Z, LL Cool J, Foo Fighters, and Todd Rundgren.
Gina can now add published author-photographer to the long list of accomplishments with her first book, Made In Hollywood: All Access with the Go-Go's. Made In Hollywood is a photographic journey, as told by Gina, featuring intimate and personal photographs and memorabilia collected over her 40-plus-year career.
She has had photo exhibitions of her work in Los Angeles, San Francisco, and New York City galleries.
Gina currently lives in San Francisco.